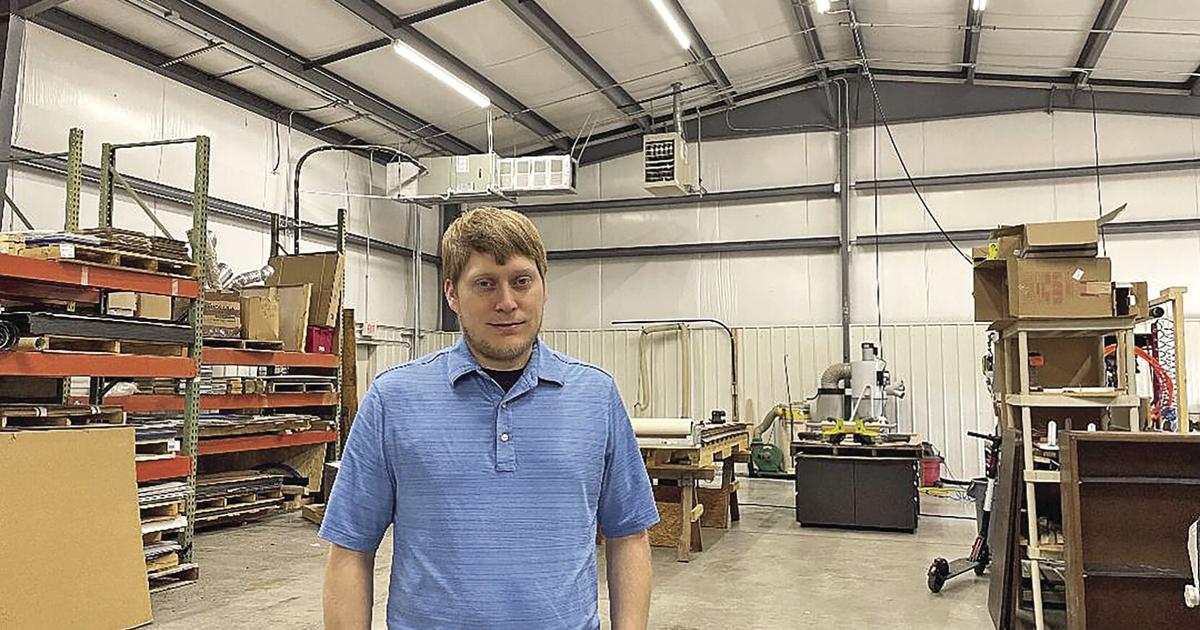 No Problem: Entrepreneur Gets Creative With Manufacturing Company | Business
"There are no problems – only opportunities", is a frequently manipulated saying that is often used to encourage overcoming challenges and acknowledging victory where others see loss. This is the case of Levi Stecker, who runs CreativEdge in Hillsborough. Only, it is more often people who come to him with problems, and then he creates an opportunity.
"I solve problems that people don't have answers for," Stecker said. "There's a reason they find me on the internet. They know what they want but they don't know how to do it or they don't want to do it. And that's when it comes to me.
Stecker is a bespoke manufacturer. It uses Computerized Numerical Code (CNC) to cut and shape flat sheets using CNC routing, CNC lasers and other CNC equipment. Everything is done with computers. And it's all about precision.
"It's not like a handsaw in the old days, and if it was within a 16th of an inch, we're good. Now we're within two thousandths of an inch, so we're good.
Stecker has worked with CNC equipment for much of his life. His father, who runs Alchemy Identity from a shared space with CreativEdge, learned to program CNC in the 90s. Stecker quickly figured out how to use the equipment. When he was in middle school, he was one of the Future Business Leaders of America and was even featured in the local news for the sign company he started in seventh grade.
He and his father, who does the art of metal cutting as a high-end home decor, had a business together. This business has been sold. Stecker's father remained with the company that took over and he accepted a position as an inside sales representative with Piedmont Plastics. It lasted about eight months.
"I found out that I couldn't sit at a desk," Stecker said. "I was still in the warehouse, still walking around. They always said, "Where's Levi? Where is Levi? I just liked being with the people in the back. They didn't want me to leave, but I couldn't stay still. I am very involved. I like office work, but I also like going out and working, taking physical walks.
He went to work for a few years in a sign company in Durham. In 2019, Stecker bought a small CNC table laser and some hand tools, and started doing small jobs for Piedmont Plastics after the manufacturer retired from the company.
And then a gigantic problem occurred, followed by an unexpected opportunity. "Spring came and the pandemic came, and they (Piedmont Plastics) started sending me quotes for sneeze guards," he said. "It was plastic shields that everyone has now, and I was like, 'Man, this could really become something if I do it right.'
Stecker still worked full-time as the sign company's operations manager during the day and did manufacturing work in the evenings and on weekends in his garage. As quotes for jobs and order sizes continued to increase, Stecker knew he had to make a decision.
"I decided to part ways with full-time day work, which was a big deal," he said. "I was scared. I was like, this is where I get my health insurance. This is where my bread and butter is. But I had accumulated enough side work that he started to piled into the bank, and I wasn't spending anything, because I had a day job. So, I thought, well, that might work.
To say it worked would be an understatement. CreativEdge produced sneeze guards and baffles at Durham Tech. Seqirus, a Holly Springs company that makes flu vaccines, ordered partitions for desks and offices that allowed its staff to get back to work faster during the pandemic. Stecker even worked for the Mexican consulate.
As pandemic-related work has thinned out, Stecker has continued to keep the amount of work — and the types of projects — going. He is still able to do smaller projects, like a custom counter for a bakery; and bigger projects, like creating an insulating part used in the tire manufacturing process for Goodyear. He still maintains a close relationship with Piedmont Plastics.
Stecker quickly outgrew his garage, and now his business shares a 7,500 square foot space with his father's business in the Cornerstone Business Center. The expansion allowed both Levi Stecker and his father, William, to invest in larger equipment and materials storage.
But even with a bigger location, Stecker said he hopes his business will continue to grow. He gets more work in nearby towns, like Greensboro, and might approach Piedmont Plastics with the intention of becoming a regional manufacturer.
Currently, Stecker has one employee. Manufacturing can be learned through school curricula, but he likes the idea of ​​an apprenticeship more. "You could learn some of it in trade school. You learn a lot through the hands doing it. It's these trade secrets that allow me to do some of the things I do, like bending acrylic. It's something I learned on my own just by trial and error.
Outside of work, Stecker spends most of his free time caring for his seven-month-old daughter, Lucy, with his wife, Katey, who is a nurse at UNC Medical Center.
For more information about CreativEdge, visit: creativedge-us.com