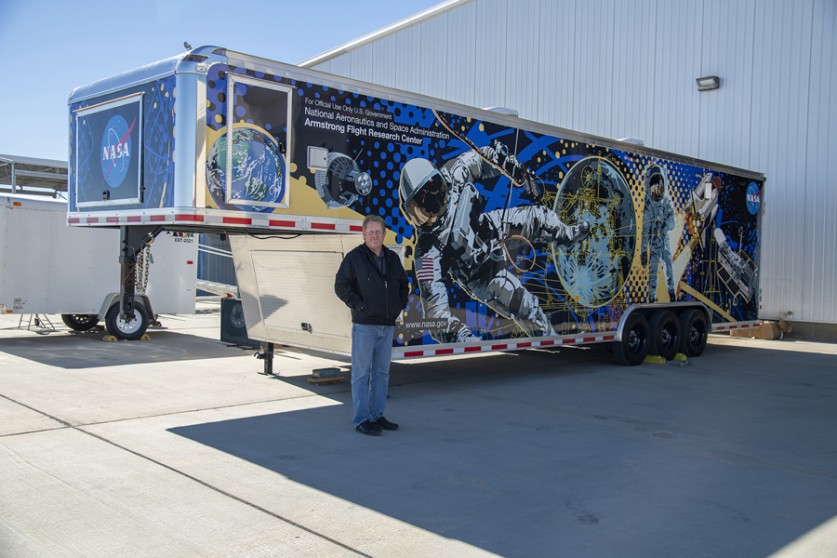 NASA Armstrong gets a fabrication shop on wheels
NASA's Armstrong Flight Research Center in Edwards, Calif., is bringing a fabrication shop on wheels to national student robotics competitions starting in March. This will give robotics teams the ability to quickly modify or repair their robots.
The mobile workshop allows a technician to weld, machine or perform sheet metal repairs on a damaged robot and put it back into action. Onboard equipment includes mill, lathe, drill press, hacksaw, air compressor, generator, belt sander, arbor press, metal working tools and hardware of welding.
"This is a great opportunity for students," said Alan Crocker, head of NASA's Armstrong Fabrication branch. "We hope in addition to repairing robots that we will inspire children. Some of them might want to be technicians with the potential to build components that will go into outer space. They are so motivated and it invigorates me.
How it works is that students will file a work order detailing the part they need or what needs fixing. Then NASA Armstrong staff will help replace and repair the student robots.
The center received the mobile fabrication shop on Feb. 7, courtesy of the Robotics Alliance project based at NASA's Johnson Space Center in Houston. The robotics alliance is dedicated to increasing interest in the disciplines of science, technology, engineering, and mathematics (STEM) and to inspiring American students to pursue professions in these fields in order to create a workforce- of inspired, experienced and technical work for the aerospace community.
A key part of this goal is to support high school robotics teams in national robotics competitions with engineering and technical professionals from government, industry, and academia to gain hands-on experience and mentorship.
"Interactions with NASA engineering technicians at these events are a great opportunity for students to gain insight into the NASA career paths that are critical to our success," said David Voracek, chief technologist. of NASA Armstrong and NASA Armstrong Project Manager for the Robotics Alliance project. .
NASA's Armstrong Mobile Fabrication Workshop is scheduled to roll in March and April in Monterey, Fresno and Lancaster to support the For Inspiration and Recognition of Science and Technology robotics competitions. NASA's Armstrong Manufacturing branch will provide two technicians (three during training) to outfit the portable workshop during national events. The staff includes Jason Nelson, Alex Zamora, German Escobar and Jose Vasquez.
Although the main purpose of the trailer is to help students, Voracek added, "the fabrication shop is also available for NASA's Armstrong projects and could be used to aid in disaster response efforts. 'emergency". For example, NASA Goddard used a similar trailer in Florida during hurricanes to sharpen tools used to clear debris and form firebreaks, Crocker said.
Regardless of its use for students, center projects, or to aid in an emergency response, the mobile fabrication shop provides an agile capability.