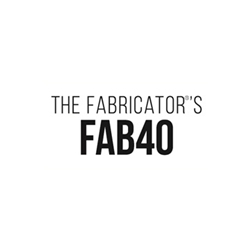 Miller Fabrication Solutions named to FAB 40 for fourth consecutive year
"We are honored to continue to be on this prestigious list. – Eric D. Miller, President, Miller Manufacturing Solutions
BROOKVILLE, Pa. (PRWEB)
July 12, 2021
Miller Fabrication Solutions, a strategic metal fabrication partner for Original Equipment Manufacturers (OEMs) in the construction and forestry, transportation industries, engine and turbine equipment and other heavy industries, was named in The FABRICATOR® magazine 2021 FAB 40 List for the fourth consecutive year.
The annual MANUFACTURER list identifies the 40 best performing metal fabrication operations in the United States, as determined by previous year's revenue and other company information. Companies that derive most of their income from contract and custom manufacturing involving sheet and plate fabrication are eligible to be on the list.
"COVID-19 has created challenges for manufacturers across the country," Miller President Eric D. Miller said. "We have used the pandemic as an opportunity to retain the majority of our workforce, make capital investments, load the product to level, integrate new OEM projects and focus on our strategic initiatives. . The inclusion for the fourth year in a row on The FABRICATOR®'s annual list of the most successful OEM metal fabrication operations in the United States underscores the benefits that have come – and should come – from these actions. We are honored to continue to be on this prestigious list. "
Miller Fabrication Solutions has three factories in western Pennsylvania that offer a wide range of manufacturing and value-added solutions, including welding and fabrication, machining, coating and finishing, Assembly, inventory management and control, logistics optimization, value analysis / value engineering, production planning on time and capacity management.
Access the gallery of the company's completed and ongoing projects by visiting http://www.millerfabricationsolutions.com/gallery today.
About Miller Manufacturing Solutions
Founded in 1963, Miller Fabrication Solutions is the strategic manufacturing partner for innovative global OEMs. Miller provides high quality metal parts and assemblies through its extensive value-added and manufacturing solutions. With a focus on modern technology and robotic automation combined with lean processes, the Miller Customer Experience ensures that complex project metrics are outdated now and in the future. OEMs can learn to transform their metal fabrication processes into schedule a consultation.
Share the article on social media or by email: