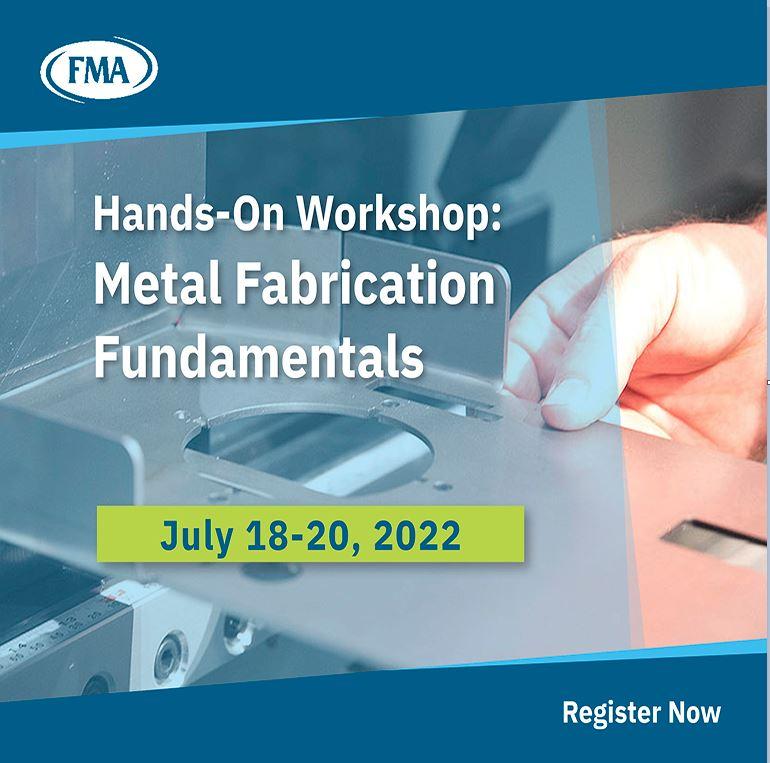 Hands-on Workshop: Fundamentals of Metal Fabrication
DEVELOP YOUR METAL SKILLS WITH PRACTICAL EXERCISES AND GUIDED COACHING
Explore the basics of cutting, bending and welding in a condensed and interactive format. Use the FMA manual Metal Fabrication: A Practical Guide, the workshop follows the complete metal fabrication process. The training is complemented by extended workshop time with university professors and industry experts.
On the final day, you will have the opportunity to take the FMA Metal Fabrication Fundamentals certification exam. This exam is normally offered to technical school students at the end of their semester, but you'll cover the main concepts in three days of training! A certificate will be given to those who have passed the evaluation. (Note that although this is an industry-recognized credential, the certificate does not imply professional certification designation and does not require renewal.
ABOUT THE PROGRAM
Class time is from 8:00 a.m. to 5:00 p.m. every three days, with each day focusing on one technology (cutting, forming and welding). Lunch and snacks are provided. You will receive your own copy of Metal Fabrication: A Practical Guide ($77 value). Through hands-on demonstrations and exercises with Harper College equipment, you'll be able to build and complete your own take-home project.
Attendees will have the opportunity to visit Bystronic USA and the TRUMPF Smart Factory at Hoffman Estates (upon host approval).
FMA members can apply for a 50k5 Education Pass to cover the cost of this course.
Register now!