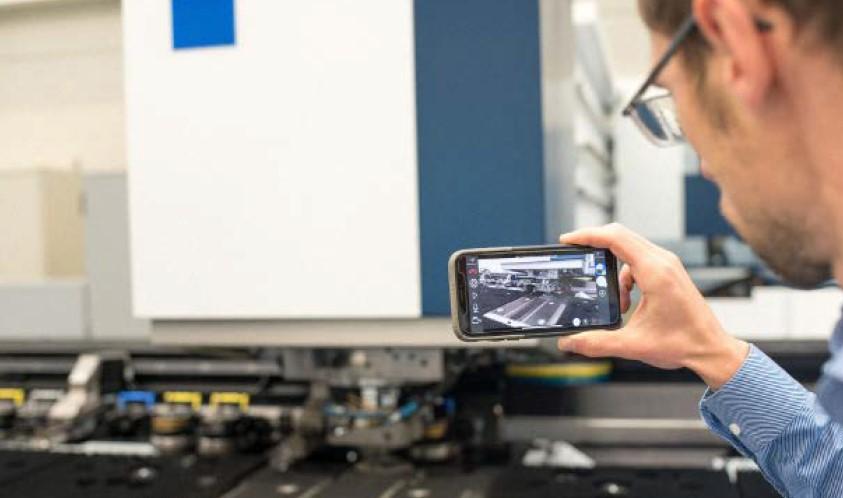 Achieve zero unscheduled downtime in metal fabrication
When manufacturers invest in new equipment, they are looking to increase their production capacity or technical capabilities, and these requirements drive the purchasing decision. The convenience of asset availability management has yet to become a major selling point, as it was once driven by the knowledge and experience of its operators and maintenance team.
With the rise of the Internet of Things, more and more manufacturers are seeing the potential for digitally managing machine reliability, improving service convenience and supporting shift operations. 24/7 unmanned work. As a result, they are changing their equipment maintenance methods and tools. Their goal: zero unplanned downtime.
For years, preventative maintenance has been the industry standard. Everything is guided by time intervals: Change the protective glass of the laser cutting head every four weeks; perform a full maintenance routine every six months. For a single machine, the schedule is easy to calculate, understand and plan, whether on a workshop whiteboard or using a digital production plan.
However, machines require different components at different time intervals, and these depend on the cutting parameters and use of the machine. Defining time intervals in a large workshop with a variety of machines and different uses can quickly become a complex undertaking. For the manufacturer, the process requires experience, continuity in staff, and attention to detail that could get lost in the daily hustle and bustle of tight deadlines and ever-changing customer demands. More and more, manufacturers are adapting their maintenance services according to the data collected on the machine.
The prerequisite: connectivity
It all starts with the data connectivity of individual machines. The continuous transfer of equipment information to the service organization creates a digital twin of each machine, its performance and lifecycle evolution. Of course, this data only becomes useful if the service organization has the right tools to manage and interpret it.
Data visualization
Datasets should be presented in such a way that they can be interpreted. Data visualization is therefore essential. OEMs need smart, powerful computer systems to simplify information for machine owners and maintenance personnel so they can make the right decisions at all times.
Data indicators can help improve operation. For example, some indicators can help the machine avoid collisions with the cutting unit in certain situations. And the details matter. For example, indicators can provide insight into what is happening at a specific time of day, on a specific program, using specific settings. Such information can not only reduce downtime, but also increase equipment productivity. At this level, any machine problem becomes transparent but still requires decision making and effort to make the appropriate corrections aimed at avoiding downtime.
Data-driven recommendations and predictions
Instead of just looking at each machine, data engines look at entire populations of equipment, recognize patterns that statistically lead to downtime within that population, and recommend the right actions. It requires a large amount of data and in-depth knowledge when analyzing it.
The system itself can then recommend actions to take, for example when a certain maintenance step is required or predict when machine parts need to be replaced. This improves overall equipment availability and reliability. You can then schedule planned downtime for maintenance in advance, rather than having to react to unplanned downtime.
Self-regulation and continuous optimization via Live Feed
Enhanced AI-powered systems go one step further and automatically adjust settings to improve operations. The machine adapts its cutting parameters itself during production, based on live feedback collected by sensors. For example, by using image recognition to verify material quality, laser machines can automatically adjust cutting speed to reduce burrs.
Such technology improves overall machine health and increases long-term availability. Scheduled maintenance steps are still necessary, but the intervals for some operations can be extended if the machine settings are optimized to avoid problems.
Implementing AI-based maintenance
The theory may seem simple: by leveraging connected machines and data-driven services, manufacturers are getting closer to zero unplanned downtime. But implementation is complex because it involves significant process changes, both at manufacturers and within machine OEM service organizations. Two worlds – the deep knowledge and experience of service experts who understand machine behaviors, and the programming skills of data analysts – collide and must be merged to create valuable machine insights.
First, machine OEM sales and service organizations need to convince machine owners to share their information with them. By offering insightful, data-driven services that benefit machine uptime, they can build trust and demonstrate the benefits of these new technologies.
Once the data is shared, how does an OEM understand the data and turn it into something valuable? What are the relevant signals? What is the right level of alerts to avoid information overload for machine owners? It is a complex process for manufacturers to translate the deep knowledge of their service experts into structured algorithms. These can be used by their organization to monitor machines remotely and proactively contact maintenance teams, schedule service hours, or provide accurate diagnostics based on more information.
Machine owners need to have staff members who recognize how beneficial monitoring equipment performance can be and who are trained to interpret the data. Maintenance teams should take advantage of the valuable information provided by machine OEM service organizations and accordingly plan their operations to optimize their production plan without missing due dates for maintenance tasks. When all of this happens, a manufacturer can move from reactive maintenance to predictive operation.
The more machines connected, the more data will be available to continuously verify and train algorithms, which will ultimately increase the benefits for the machine owner. However, even a remote machine monitoring approach with a background data analytics organization cannot predict or prevent everything. In this case, digital tools can help operators manage the unpredictable and react quickly to unexpected issues.
For example, registering cases through a digital platform or app improves communication between the service organization and the machine owner. Communication is simplified, structured and standardized, with all the necessary information found on a single platform. People involved in the project can see the status of a case at any time and communicate with the service organization.
The ability to solve problems without the help of the machine manufacturer allows for more autonomous operation. Simple step-by-step documentations for specific issues can also help reduce downtime. A standardized knowledge database, especially for simpler queries, gives skilled operators the ability to perform basic troubleshooting steps. This can already completely solve the problem or at least prepare the operators for their call with the service organization of the equipment manufacturer. Although this is already common in the world of software services, there is still a lot of potential for the world of machine tools.
Remote troubleshooting applications with video communication tools exist on the market, but some are more suitable for industrial applications and targeted towards remote service than others. They need additional features around augmented reality, with the ability to include live image annotations or compatibility with hands-free devices like smart glasses to help with remote troubleshooting.
To take full advantage of these remote tools, OEM service organizations and machine owners must be prepared to adapt. Training and becoming familiar with new applications is an important process for operators and maintenance technicians. Defining when enhanced remote troubleshooting capabilities replace on-site service missions is also an important step. This changes the role of in-house service engineers when explaining and performing these procedures online and also requires trained personnel on the machine owners side.
The future of maintenance
The benefits are clear, however. The in-house resolution rate, that is, the frequency with which service issues can be resolved remotely, will increase and repair resolution time will decrease. Operators who work with remote maintenance technicians become more proficient and also learn the importance of machine maintenance.
Even with the most advanced technologies and the smartest machines, maintenance activities will never completely disappear. However, their planning and effort can be minimized by using machine condition monitoring data and digital optimization of the cutting process.
And with industries transitioning from single machine to automated systems, manufacturers' service organizations are moving from a reactive service model to a high-availability system with limited unplanned downtime. Smart maintenance and the use of machine analytics is therefore an essential part of the development and implementation of smart factories.