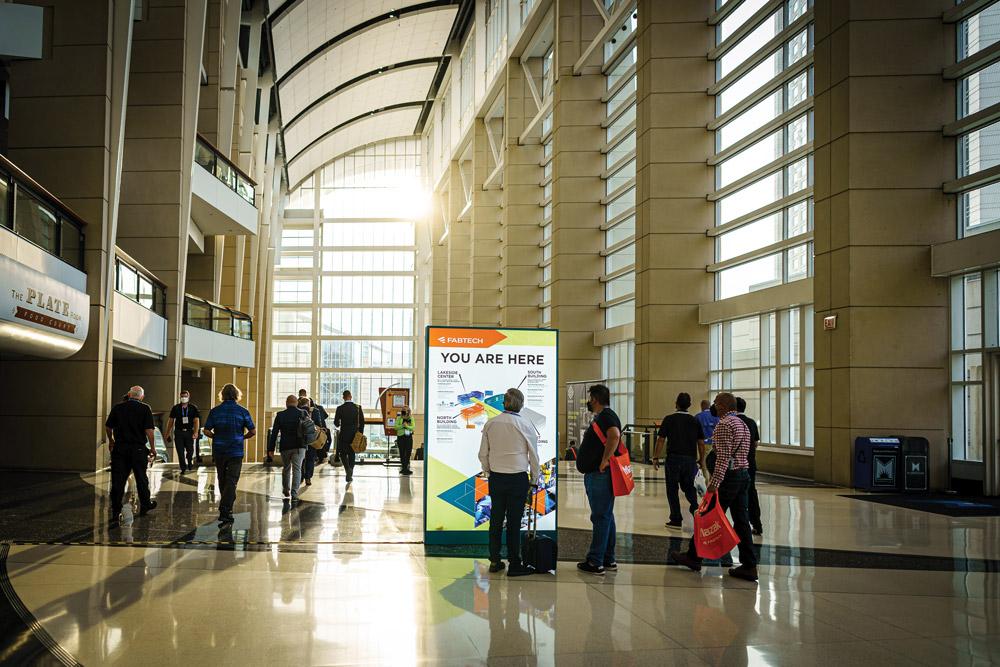 A turning point for automation in metal fabrication?
When the doors of McCormick Place opened in mid-September to host the first FABTECH in two years, serious energy permeated the venue. The show had few tire kickers. People needed machines and software yesterday, and many were there to buy.
A number of participants I spoke with said they needed automation to stay competitive in their niche markets.
No doubt many of the other 24,000 attendees felt the same way. The industry is in a particularly palpable state of emergency at the show. The industry is short of people – skilled, semi-skilled, unskilled, whatever. To grow, manufacturers have no choice but to turn to technology. They learn about new machines, new software, new ways to connect shop floor systems and processes, and new strategies for creating company culture to make the most of what technology has to offer.
The Dangers of a Shallow Talent Pool
Technology at its best elevates a workforce. Sales per employee are increasing. As employees learn and accomplish more, they earn more money as they move up the career ladder. Automation in the hands of the curious and creative can lead to great things.
At worst, technology helps make unskilled, indifferent, and uncommitted people marginally productive, at least for a while. Even those who appreciate technology could find themselves in a dead end career if they never receive the proper training to grasp the big picture of metal fabrication, the fundamentals that workers of yore had no other choice than to learn. They had no software or automation to rely on. A high-tech fabrication shop with a shallow talent pool sounds good, but it's just window dressing, and it's definitely not sustainable.
It's easy to see how this all plays out, especially now that baby boomers are retiring and too often taking their knowledge with them. Metal fabrication is going through a big generational shift and sharing knowledge has never been more important. Here too, technology can help.
At FABTECH, Steve Zubrzycki pointed to the computer screen on his stand. He showed a video of someone operating a machine, taking the viewer step-by-step through a certain set of tasks – nothing out of the ordinary there. But then he showed how this video was made. The video was not harsh. It incorporated diagrams and subtitles, and even translations into different languages. The editing of this video was done automatically using artificial intelligence (AI).
Zubrzycki is the Customer Success Manager at Detroit-based DeepHow (www.deephow.com), a 3-year-old company that devised a way to streamline the process of recording, editing, and publishing videos. Using a specialized video capture app, someone with a phone records a store veteran performing a specific task and uploads the video. From there, DeepHow's AI modifies it to fit into a manufacturer's training program. Technology exemplifies how old-school craftsmanship meets the disruptive technology of the present.
"Our goal is to help businesses fill the skills gap in manufacturing," Zubrzycki said. "The technology is designed to be scalable across all organizations, even globally."
The role of creativity
Such knowledge lays the foundation for true manufacturing creativity, which is why many get into the metal fabrication business in the first place (it's certainly not a get-rich-quick scheme). Creativity comes in two forms – craftsmanship and process – and today a maker needs both to thrive.
This store veteran recorded for DeepHow's training video drew on years of know-how. With this knowledge, the shop veteran sees a difficult drawing not as an impossibility, but as a challenge. So you want to bend 6061-T6 aluminum into a tubular shape without cracking? Instead of giving up, creative artisans visualize how they could gradually bend it on a press brake with the right tools and careful handling.
Then there's process creativity, which comes into play when manufacturers look at entire processes and aim for overall improvement, from raw inventory to the shipping dock. This is where continuous improvement and Industry 4.0 come in. And as usual, the FABTECH conference had multi-day programs covering everyone.
This year, many ideas about Industry 4.0 and disruptive technologies – AI, machine learning, the Industrial Internet of Things and everything in between – had a practical bent. These were not fancy concepts.
For example, Mo Abualio, PhD, managing partner of IoTco, a Cincinnati-based digital transformation consultancy, described a welding application in which inspection cameras viewed welded seat frames and, using AI, learned to determine if a weld was good or bad. "The AI ​​was trained to look for good images and burnt images," he said, "and then immediately send that data back to the [manufacturing execution system]." More importantly, these cameras were neither fancy nor expensive. Each costs less than $300, further proof that AI and other disruptive technologies aren't just for multi-billion dollar companies.
The same could be said for a variety of detection technologies. Abualio described a stamping application integrating acoustic sensors. They were not integrated into the matrix or the press, but rather sat several feet away, away from any hostile environment. In other words, setup was simple, non-intrusive, and inexpensive.
"This app gave us predictive quality through acoustic detection," Abualio said, explaining that the bottom of a press stroke produces sound signatures that change when something is wrong. Imperceptible to the naked ear, these differences point to quality issues, and a simple sensor setup can detect them within microseconds of their appearance.
A new era
Michael Bell, sales manager at Pemamek LLC (www.pemamek.com) based in Mason, Ohio, pointed to a photo that towered over his booth. It showed a two-station welding fixture on an 800-ton steel structure over 15 m in diameter, between 120 and 130 mm thick. What once required a host of manual welders is now welded automatically, with three seams laid simultaneously in a semi-narrow space, X-bevel configuration, all with adaptive fill technology.
"One person handles it all," Bell said. He stressed that welders do not lose their jobs; the company simply couldn't find the number of welders it needed to meet demand, so it turned to automation.
The example shows the changing nature of the career in metal fabrication. Repetitive jobs, even on 800 ton steel structures, are now ripe for automation. Those who know the craft of crafting are still sorely needed. This welder who managed the automation knew perfectly the welding torch, the importance of a good preparation of the joints and the need for adaptation.
The technology on display at FABTECH 2021 showed an industry in transition, an industry in which creativity is valued more than ever and new technologies empower those who know the craft of metalworking and can appreciate and quickly learn new methods. Judging by the excitement of those on the show floor – an exhibit space that hadn't seen such traffic in over 18 months – the fun has only just begun.
Managing Editor Tim Heston can be reached at [email protected] FABTECH is organized by five event partners: American Welding Society (www.aws.org), Fabricators & Manufacturers Association Intl. (www.fmamfg.org), SME (www.sme.org), Precision Metalforming Association (www.pma.org) and Chemical Coaters Association Intl. (www.ccaiweb.com). To learn more about upcoming FABTECH events, visit www.fabtechexpo.com.